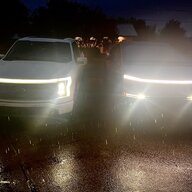 Joined

Aug 17, 2022
Threads
Messages
Reaction score

6,735
Location
Vehicles

F150L
Occupation

Fun-employed

We've long established how the larger the vehicle, the more critical is aerodynamics to range.

We've also long discussed how accessories that mount outside the envelope of the truck will have possibly material effects on range (especially at high speeds).

In my ideal world, the CyberTruck accessories purchase page would list the range effect of a given OEM accessory. Eg:

"Roof Rack: US$650.00 (-5% range @65mph)"

Relatedly, because these are OEM accessories, in my ideal world the Tesla range guess-o-meter (GOM) would account for installed accessories.

Will Tesla list range penalty of accessories, or at least have it flange with GOM range inputs?

On one hand, I wouldn't blame a company selling accessories for not listing range-effect at purchase, while similarly not being surprised if the the GOM doesnt account for it.

On the other hand, this sort of range effect disclosure/advertisement** would seem to be the future. As people convert to BEVs and come to understand the unique considerations, these sorts of range effects would seem to be as pertinent or competitive-advantage relevant as any other performance feature.

If Tesla doesn't do it off the bat, then I'd hope they eventually lead the way (at least until improvements in battery/charging/education make it irrelevant).

Thoughts on if this is relevant info to you, or if Tesla may address it?