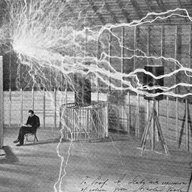 First Name

Bryan
Joined

Jun 16, 2020
Messages
Reaction score

2,347
Location
Vehicles

Dodge Ram diesel
Occupation

Retired

Batteries in electric cars have come a long way.
The Tesla Model S, for example, has broken the 400-mile barrier
while the upcoming
Lucid Air and its 113 kWh battery back will offer as much as 4.58 miles per kWh
or
more than 500 miles of range
With that in mind, it looks like the Lucid Air's claim to fame might be short-lived as a new battery tech has been developed and it could offer up more than double the driving range and enable fast charging to more than 80-percent in just five minutes. But, there's a catch (as there always is), and you might not like it.
SILICON IS THE KEY TO EVS – IT ALWAYS HAS BEEN
This news comes straight from a team of researchers at the Korea Institute of Science and Technology.
That team has been working with a new carbon-silicon material that has the capability of not only doubling the usable driving range of EVs but enable outrageously fast charging to the tune of 80-percent in just 5 minutes.
How does it work, though? Well, apparently, the team of researchers wants to replace the graphite anodes in current EV battery tech with these carbon-silicon anodes. These carbon-silicon anodes have 10-times the capacity of their graphite counterparts, and that's where the double driving range and fast charging claims come into play. But, there's a twist – the work great in this way, but fail miserably at holding their capacity over time. It's this instability with carbon-silicone anodes that limits a battery's usability.
However, the Korean research team discovered that by using the same thermal process used for frying food, they can keep these carbon-silicon anodes stable.
Believe it or not, they used a mixture of water, oil, and starch. In the end, the results were impressive, with the battery at the end of the experiment having four times the capacity of a similar battery with graphite anodes.
The battery also remained stable of 500 cycles, which is far from enough for real-world usability in EVS, but it's a good start.
On that note, the team also says that the silicon in these new anodes doesn't expand, which is a common problem with this technology
Leader of the Korean research team, Hun-Gi Jung, said in a statement:
"We were able to develop carbon-silicon composite materials using common, everyday materials and simple mixing and thermal processes with no reactors."
He went on to say that the new composites perform so well that they're "highly likely to be commercialized and mass-produced."
Now, the question is when that's going to happen. An electric car with, say, 1,000 miles of range on a single charge – and with the capability of sucking in 800 miles of juice in a matter of 5 minutes – should be more than enough to eliminate range anxiety. Perhaps, it would even be enough to encourage expanded and expedited development of charging infrastructure on a global scale. Well, here's to hoping, right?
Source:
Topspeed