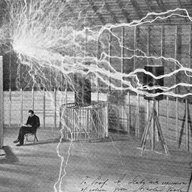 First Name

Bryan
Joined

Jun 16, 2020
Messages
Reaction score

2,985
Location
Vehicles

Dodge Ram diesel
Occupation

Retired

A cell-starved Tesla is fighting to bring its most ambitious cars to life.
THE
CYBERTRUCK
, A FUTURISTIC HUNK OF CAR first debuted by Tesla at an
unveiling event
in 2019, is probably Elon Musk's favorite truck. He said as much in a July 15
tweet
, telling a fan that even if Cybertruck is a sales "flop," it's still "so unlike anything else."
"I love it so much," Musk said, "even if others don't." Naturally, Musk's burning love has also got other Tesla fans pretty amped up about the truck, which promises user-recognizing automatic doors, and "
all four wheels steer
" for a "nimble" truck driving experience.
But Tesla is missing batteries, and it could determine the Cybertruck's release date.
HERE'S WHAT HAPPENED
With the company's second-quarter 2021 earnings results last week, the firm outlined several ways that the supply of batteries is hitting production:
The Semi truck, first announced in 2017 with a 2019 launch date, has been pushed back to 2022.
The firm has "a massive backlog in Powerwall demand … the demand of Powerwall versus production is an insane mismatch."
The Semi, as well as the upcoming Cybertruck, are "heavy users of cell capacity."
Tesla plans a new 4680 cell, which could speed up production and drive down prices. But as it tackles the final 10 percent of manufacturing processes that bottleneck production output, any hiccups could have a knock-on effect.
"It appears that they were counting on these cells to make both the truck and Semi viable,"
Sam Abuelsamid
, principal analyst of e-mobility for Guidehouse Insights, tells
Inverse
.
THIS WON'T IMPACT ONLY THE CYBERTRUCK
Tesla planned two major consumer-facing vehicle launches this year:
A redesigned version of the Model Y compact SUV simplifies manufacturing and includes the new 4680 cells. The car first hit roads in March 2020.
The Tesla Cybertruck, the firm's all-electric pickup truck first unveiled in November 2019
During the call, Musk explained that Tesla plans to start producing the Model Y redesign later this year. The Cybertruck will enter production once the redesigned Model Y reaches mass volume. Unfortunately, that could take some time — the Model 3 took nearly a year to get to that stage, meaning the
Cybertruck will likely hit roads in 2022
.
As the Cybertruck gears up for launch, it will
face off against
Ford's F-150 Lightning
.
The Cybertruck packs an impressive punch:
The F-150's range reaches up to 300 miles per charge, while the Cybertruck's range goes up to 500 miles.
The F-150 can reach 0 to 60 mph in just 4.4 seconds, but the tri-motor Cybertruck can achieve that in less than 2.9 seconds.
The F-150 is priced from $39,947 to $90,474. The Cybertruck is priced from $39,900 to $69,900.
Specs mean little, however, if nobody can buy the car. A delay could send potential buyers looking elsewhere.
"My guess is that Ford will be delivering F-150 Lightnings in volume well before the Cybertruck," Abuelsamid says.
In the race to electrify, the key to winning could be battery production.
https://www.inverse.com/innovation/cybertruck-delay-how-teslas-biggest-problem-is-industry-wide