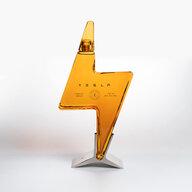 Joined

Jul 6, 2020
Threads
Messages
Reaction score

1,236
Location
Vehicles

Dodge Challenger
Occupation

Engineer

I don't think Plaid will reach into 24.
EM said sales fall off a cliff when the car reaches a certain price point.
As an example, he expects models 3 million 3 & Y to reach 3/4 million, but only sells 100,000 X&S.

Maybe 10,000 Plaids will be sold. That figure I just feel is a ballpark guess, but I don't think it will be anywhere near 100,000.
Well, I think the Truck production will be 50% or less of capacity (previously said to be 250k per year), and we're talking half a year to reach 2024, so that's around 65k trucks if "mid 2023" means a full 6 months and they hit 50% capacity right away. Both are optimistic.
I think the demand for the CT Plaid will far exceed model X and S because a) it's super cool, new and unique and b) it's a truck, and 'merica loves trucks.
Previous data says demand was around 30-50-20% 3-2-1 motor for the CT. And there are probably a million or more reservations. If half the reservations bail, that's still 150k tri motors. How many would spring extra for the Quad? I don't know. But I think it's closer to 100k than 10k.