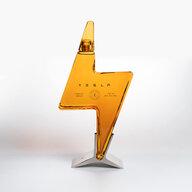 Joined

Jul 6, 2020
Messages
Reaction score

841
Location
Vehicles

Dodge Challenger
Occupation

Engineer

I find it interesting the concern over battery replacement and or massive accidents. How often does this happen? The warranty on the battery is 7 years. Replacing a big battery now is going to run you 15k or so. With this new design it could bump the cost up...20k? 25? Do you really want to spend 15-25k to fix an 8 year old car? A 10 year old car? If you have a massive accident, you're replacing the battery anyway on the existing style, and also the frame work, doors, etc, so nothing's changed there. When you get to that point it's generally best to be looking at a new vehicle anyway, since your 8 year old Tesla is probably only worth 30k.

Rather than think about extreme situations that are likely never to happen and solutions you are likely to never use, think of the positives. You're probably saving 5-10 in manufacturing costs when you purchase. If you're paranoid, put that into saving or investments to cover that .01% chance something catastrophic happens to your car when it's a decade old.

Personally, I'm pumped for the extreme rigidity that's likely going to come from that design. A Cybertruck could feel like a Miata!