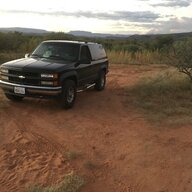 First Name

Rex
Joined

Apr 22, 2020
Threads
Messages
Reaction score

1,469
Location
Website
Vehicles

1997 Tahoe 2 door 4x4
Occupation

Retired software developer and heavy commercial design builder

Ford introduces 2023 F-150 Lightning Pro SSV: An electric pickup purpose-built for the police
.
This is smart FORD practice, taking care of business, covering its bases. One story. A FORD territory sales manager and I raced together. He famously landed the
UTAH Highway Patrol fleet
dressed in Mustang SSP spec. We parted as his success took him higher, farther afield. But not before sharing a New Year's eve tradition. Evidently, a brand new FORD Limo ends up at the Governor's mansion - parked - keys under the mat - as another Limo disappears every NYE. FORD parked a new fresh Limo at the Gov's mansion no questions - no charge.
FORD's game, more than winning Performance, is a multi-level, multi-faceted 4+ Dimensional chess. It's clearly available online; mock-up renders for Cybertrruck Fleets exist…but man, no free Limo's. That's "check" mate!
Its a small ball play by FORD to take big shots! All 50 State governors play? Who knows if Tesla wants to play Fleets? At-the-end-of-the-day, Tesla has GigaFactories to keep feeding, tending, casting and charging EV's fast as it can. At such scale FORD business may just have Fleets to themselves.
OTOH, Utah changed from Mustangs to cheaper units, as FORD became too rich for Utah Highway Patrol budgets. Fleets could be asking " Who's their Daddy" which Elon could have a most attractive simple answer afterall.
Last edited: