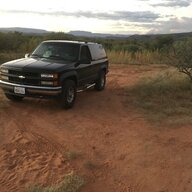 First Name

Rex
Joined

Apr 22, 2020
Threads
Messages
Reaction score

1,281
Location
Website
Vehicles

1997 Tahoe 2 door 4x4
Occupation

Retired software developer and heavy commercial design builder

What if…it is true that avoiding accident by computational intelligence and artificial automation is reinventing driving, reinventing the way driving fails or succeeds by artificial foibles, algorithmic prejudice and weak or false data-based simple "do not crash" directive? Elon's turn of phrase "March of Nines" begs defining how long. And how does 0.99999 keep FSD from a death march? This is just my guess at a March of Nine's scheme.
tl;dr
AI robotics is the paradigm shift that Driving Safety is going through. Do not crash is not Elon-speak, nor is it to be confused with humblebrag. It is the 'terminal goal' driving(sic) this paradigm shift in transportation safety. Shifts occur when an effective change realized in solving a fundamental problem exceed 10X gain - that's paradigm shift. ATT coined the metric, venture capitalists rephrased it as "disruptive technology". FSD is in pursuit of that 10x disruption to a better 1000% self driving safety
But is it to implement the end goal "Do not hit it" whatever it is, FSD need not identify it - just not hit it as Elon likes to explain it? In the March of Nines, The Fifth 9 is " Do Not Crash". Right now the state of art FSD can drive into flashing emergency lights along side roadways - crash. Fail safe it is not and as such the prime directive - is not imperative. FSD development is at "Situational Awareness", The First 9, an instrumental goal that provides FSD the information context to enable a terminal goal " Do Not Crash".
Critically, FSD is not a Defensive Driving system. Left-hand turns across oncoming traffic and lanes of travel in the opposite direction present 2X opportunity for accident. LH turns are one of the most dangerous acts a vehicle can perform. Humans do it everyday without thinking twice. A Hypervisor isn't supervising FSD. It needs one. To wit:
v10.4 Brea CA LH turn Model3 into wrong lane that ignored Driver intervention
.
Over 70% of fatal human accidents occur between the half hour before and after sunrise and sunset. Vision in glaring sun and light off the windshield glass is the fatal factor blinding humans killing themselves and others. Biologically, the human eye pupil dilates to the amount of available light. Pupils react to the greatest amount. Hence, the brightened sky regulates pupils. The pupil narrows. It lacks the ability to resolve the darkened foreground, blackened roadway, the light of the sun blinds us at sunrise and sunset. FSD lacks any Defensive Driving abstraction layer that can interoperate with its FSD capabilities in this context. Maybe FSD obviates the need? My camera lens flare is not definitive.
Most accidents occur 25 miles from trip origination and destination. People relax in known surroundings. Humans let their defensive driving guard down when they are close to arriving or feel that they are "at home". Driving on unfamiliar roads, hyper vigilance is awakened to alert and better protect their driving safely skills. FSD lacks a Driving Safety abstraction layer where FSD integrates Occupant Monitoring instituted with 2021.32.5 to recognize DWI, Asleep-at-the-wheel or Distracted Drivers in an active capacity.
Following too close results in rear end collision, injury or death. Human drivers underestimate stopping distance at speed. Not considered is the 1 sec. perception/reaction timing which at 60 mph is 88 ft/sec., more than four car lengths. Braking distance at 60 mph is 180 ft. Total stopping distance to brake at 60 mph is 268 ft.; that's eighteen car lengths. All rear end collisions are human error in judgement; driver at-fault accidents. Hypervision is one order above Tesla PureVISION for AI. Its an OS level that runs in one order higher precedence than FSD. FSD will need a Hypervisor for its fifth nine to integrate AI's prime directive, supervision and regulatory mandate.
Making machines safe, FSD is a march of 9's, a measure of the reduction in the incidence of accidents over human driving failures. What is FSD then? If 90 percent of all accidents could be avoided if a vehicle had just reacted just one second earlier, FSD integrates first principles into driving safely providing a one-second advantage that enables a more fail-safe driving experience.
FSD might use technology and artificial intelligence that can leverage 5-9's safety for 99.999% fail safe in-car driving. So a FSD fully developed architectural safety suite includes
Hypervisor OS: Fail Safe Driving
Fail-safe driving architecture
Defensive driving abstraction layer
Full self driving implementation
Affording in-car computational one second advantage is an order of magnitude safety. That's the essence of the paradigm shift behind computational safety!
Computational safety translating inputs; detecting sensors; combating false positives at least modeling safety better uncovering previously imperceptible but potentially vital aspects of safety are huge gains that promise to exceed human. What FSD will never be is a Grand Theft Auto Game UI. GTA UI would always be impossibly behind in real time inference processing in a post process space behind reality. Inference time is a measure of latency, frame rate and AI compiled runtime for perception problem, solution planning in a margin of computational safety.
The Marche of Nines – One "9" at-a-time Full Safe Driving are:
First 9 - "Situational Awareness" Data Context
Second 9 - "Predictable Course of Action" Verification
Third 9 - "Fail Safe Driving" Planning Principles
Fourth 9 - "Defensive Driving" Integration Validation
Fifth 9 - "Do Not Crash" In-car Safety Margin
99.999 1000% safety over human drivers
Takeaways are that FSD single stack v11 is one stepping stone toward integration. DOJO is pre-simulating Hypervisor roles Monte Carlo with Petrabits of real world Tesla data to enable in-car processing. Out of DOJO evolves a Hypervisor OS - a precedence ruleset derived from real data that control how FSD ought function. Probably, the next level of FSD advancement.
Iteratively, FSD will next integrate fail-safe actions with actual defensive driving protocols to avoid accident scenarios with high probabilities. Tesla FSD will evolve into a highly functioning single stack. An AI scheme that will keep people safe first and vehicles as safe as computationally feasible. So much more FSD advances ahead!
SWAG: 4 more yrs. (DOJO helps)