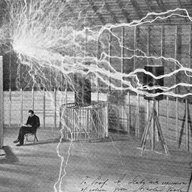 First Name

Bryan
Joined

Jun 16, 2020
Messages
Reaction score

26
Location
Vehicles

Dodge Ram diesel
Occupation

Retired

Elektro Dumper
Largest Electric Vehicle: The eDumper sets world record
Biel, Switzerland--The eDumper truck, produced by
Kuhn Schweiz AG
, is 110 tons heavy when fully loaded and powered by a 4.5-ton all-electric battery; it is in operation in a mountainside quarry in Biel, Switzerland, thus setting the new world record for being the Largest electric vehicle, according to the WORLD RECORD ACADEMY.
The dump truck is officially called the Elektro Dumper, but the German manufacturer, Kuhn Schweitz, made life a lot easier by naming it eDumper for short.
The truck is used to haul lime and marl stone, which contains clay and silt, from the sides of mountains in Switzerland. Then, the material is transported directly to a cement factory, The Popular Mechanics reports.
The eDumper was modeled on a Komatsu HB 605-7, a massive dump truck: It's 30 feet long, 14 feet wide, and 14 feet tall, plus the tires are six feet high and the dump bed reaches up to 28 feet when fully extended.
The stock dump truck was also painted green and Kuhn Schweitz added a 600 kilowatt-hour battery pack to the vehicle—that's enough to power six long-range Tesla Model S cars And those lithium batteries tack on another 9,000 pounds.
Kuhn Schweitz said that making the trip from quarry to cement factory 20 times in one day produces a surplus of 200 kilowatt-hours of energy (or 77 megawatt-hours per year). Your average dump truck, by contrast, uses between 11,000 and 22,000 gallons of diesel fuel each year.
The eDumper uses a Komatsu HD605-7 dumper as the base machine but the consortium partners have replaced the diesel engine with an electric motor capable of 590 kW of continuous power and up to 9,500 Nm torque. This allows the truck to handle gradients of up to 13%. The lithium battery pack has a capacity of 700 kWh, and is capable of 3,000A of current. It also weighing 4.5 t and is by far the largest battery ever installed in a vehicle.
In this video at 07:22 it shows the massive charging cable being hooked up:
eMining
Last edited: