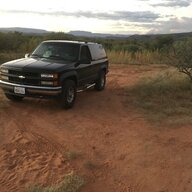 First Name

Rex
Joined

Apr 22, 2020
Threads
Messages
Reaction score

1,110
Location
Website
Vehicles

1997 Tahoe 2 door 4x4
Occupation

Retired software developer and heavy commercial design builder

FORD Lightning article
by Artechnica writer, so impressed by a one-time drive, gave it headline treatment. I am on record liking the Lightning design integration and innovations added to the pickup form factor. Lightning sales win FORD "Happy Days". It's FORD EV narrative. It's effective design tweaks have its GOAT pickup surfing the next big wave.
Tesla EV first principles engineering and futuristic exo-design Cybertruck doubles-down on Inspiration. Since Tesla first revealed Cybertruck November of 2019, much has transpired. Global pandemic is in its fourth year exceeding 6M COVID deaths worldwide, employment disrupted everyone including Tesla. Subtext to pandemic, global warming continues unsubsided as its
impacts lean planet earth toward 1.5°C
, even the state of N.M. can attest and Portland OR agrees. California backcountry already burned but Laguna Nigel CA residents weren't saved from wildfire. "What happens in Vegas - stays in Las Vegas" doesn't hold water anymore as Lake Mead drains toward "
low pool
" at Hoover dam. (Will the lights go out in GA
)
Elon Musk's vision, foresight and first principles Cybertruck is a "good" thing. In the case now before the world its turned prescient. People can see there's a special operation going-on, civilians have a need for 16" ground clearance, 500mi. range, bulletproof exoskeleton and non-global warming car – all the better it is a truck. Tesla's Cybertruck will be right "on-the-nose" messaging without needing to utter so much as a single word when released in 2023.
How important is the distinction that Tesla's truck is Cyber? Starlink is proving in Ukraine that which can't surf what is around the bend, is any animal, GOAT or otherwise, not built for the unpredictable. Like Vegas, Happy Days, Hoover dam and under equipped others, all are unfortunately stranded assets. Hydrologic engineers have a term for water that no longer runs — "dead pool" - fits!