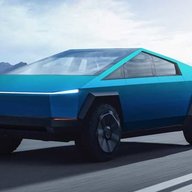 First Name

MP
Joined

Mar 4, 2020
Threads
Messages
Reaction score

944
Location
Vehicles

Tesla Model X, Polestar 2
Occupation

Product Specialist

So my family's plan was probably pretty similar to others. We had decided the Cybertruck was a good option for us. We planned to save up some money and then in 2022 or 2023 when our number came up we would trade in our Highlander and buy the Cybertruck.

But I began to run some numbers. With the incentives in Oregon and two years of fuel savings, and some upcoming maintenance needed on the Toyota (tires, windshield, etc) it made sense to me and my wife to buy a Model Y while we wait. In fact, it may actually cost less to buy the Y... but we'll see.

So on August 1st we put down the $100. Over the next few days we completed the next steps and now we wait for Tesla to make our Y.

We have reserved a Long Range AWD in Midnight Silver. The listed price is $49,990 + $1000 for the color. No full self driving or toe hitch. With all taxes and fees added in it comes to $53,519.96.

After I take possession I can apply for Oregon's incentives, which add up to $5000 for me. It will likely take several months for me to actually see that money. But in the end my total purchase cost should be about $48,500.

I'll probably add the HomeLink option too.

My main concerns right now are fit & finish (of course) and preparing my garage for Level 2 charging. I do already have a level 2 charger for my Fiat, but I am adding a 2nd charger on the opposite wall that will be for the Model Y and eventually the CT. As I type this I'm waiting for FedEx to deliver a new breaker so I can start to run the new circuit.

tl;dr
This thread will be a blog of sorts that shows the path our family is taking to taking possession of a Cybertruck. Enjoy it or ignore it or learn from my mistakes. Hope to have some Model Y pics in here soon.