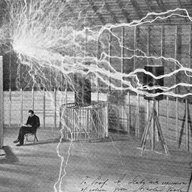 First Name

Bryan
Joined

Jun 16, 2020
Messages
Reaction score

1,470
Location
Vehicles

Dodge Ram diesel
Occupation

Retired

Ford Motor Company's (NYSE:
F
) all-electric F-150 is the more popular choice among buyers in the United States than Tesla Inc's (NASDAQ:
TSLA
) Cybertruck,
according
to research by Cox Automotive.
What Happened: The study based on 155 in-market consumers was published last week and concluded that three in five consumers found the F-150 pickup truck appealing — which Cox attributed to familiarity.
The respondents were shown images of each vehicle, without brand and model indicators and minus product details.
Ford was popular among those surveyed in terms of appeal, winning over 59% of the respondents. General Motors Company (NYSE:
GM
) Hummer Electric Vehicle took second place at 41%.
Amazon.com, Inc (NASDAQ:
AMZN
) and Ford-backed Rivian came ahead of Tesla at 39%. The Elon Musk-led automaker's Cybertruck came in at the last spot at 19%.
In terms of consideration, Ford led the pack at 45%, with three-quarters of respondents likely to consider the vehicle. Tesla came in second at 32%, Hummer at 28%, and Rivian at 25%.
"Tesla and Rivian R1T scored well with younger buyers, and Rivian performed well among female buyers as well," said Vanessa Ton, senior manager, Cox Automotive.
Why It Matters: The non-traditional look of the Tesla Cybertruck didn't impress potential buyers, according to the study.
Price, performance, design, and size matter the most to potential EV truck customers, while the brand name and work use were the least important.
"Ford leads in every attribute except tech advanced, where Hummer and Rivian are nearly tied for the lead," according to Cox Automotive.
Tesla was ranked the lowest among important attributes that matter the most to pickup truck shoppers, as per the study.
SOURCE:
Yahoo Finance
All-electric Ford F-150 beats Tesla Cybertruck in US buyer survey
A wave of electric utes are set to be unleashed on the auto market and, although they may still be some time coming to Australia, recent research by auto market company Cox Automotive shows that two in five ute buyers are already thinking about going electric.
Of those surveyed, more people said they would buy an all-electric Ford F-150 over a Hummer EV or Rivian R1T and even the Tesla Cybertruck, the US-based company has said.
But it is not necessarily because of the association that the Ford name has with powerful utility trucks (known as pickups in the US); it is the price, driving performance, design and size that people rate over brand and horsepower, the survey has found.
The results of the survey are interesting – and not only because Cox Automotive has an interest in Michigan-based start-up Rivian, which does not yet have a single production vehicle to market apart from the electric van it is building for fellow investor Amazon.
TESLA CYBERTRUCK. SOURCE: TESLA
They also suggest that the rule-breaking, angular Cybertruck – for which Tesla has reportedly taken some 800,000 reservations according to this crowd-sourced
Cybertruck order tracking sheet
– may not be the most popular ute on the EV block.
This is because, in terms of visual appeal, the survey says more ute drivers currently looking to go electric put Ford F-150 at the top of the list, followed by the Rivian R1T electric ute, when shown images of electric utes without any brand or model indications.
Interestingly, the Rivian scored almost as well as the Ford with female and young (18-34yo) buyers.
Cox Automotive said this was likely because the design of both these vehicles was more traditional, perhaps signalling that while people were ready to go electric they were still after something familiar.
The Tesla Cybertruck did not score well in the appeal stakes – given Tesla boss Elon Musk's stance that if people didn't like the Bladerunner-inspired vehicle, Tesla could just make a more traditional electric ute, this is not exactly surprising.
But notably, people said they were still more likely to buy it than the Hummer EV, GM's electric reborn super truck, or the Rivian.
SOURCE: COX AUTOMOTIVE
The survey suggests that Tesla's saving grace is its focus on technology advances – the only measure that respondents scored the Cybertruck highly for (although we note it still only just came in equal with Ford and lower than the Rivian and Hummer).
SOURCE: COX AUTOMOTIVE

Brand point-scoring aside, Cox Automotive's survey revealed one very positive sign for the EV transition: that an influx of electric utes on the market could see more people consider making the switch to electric.
While the suitability of electric vehicles for tradies and "the weekend" was savagely attacked by Australia's Coalition government under Scott Morrison, electric utes could in fact help accelerate the transition to clean transport, said Vanessa Ton, senior manager at Cox Automotive.
"Our research shows new EV pickup trucks are leading more consumers to consider an EV product," said Ton in a statement.
THE HUMMER EV. SOURCE: GM
Which electric ute will tip the scale in Australia though is anyone's guess – the Cybertruck is the only one that can currently be pre-ordered locally.
While neither Ford nor GM (which last year pulled the Holden brand from its shelves in Australia) have made any noise about Australian releases, Rivian has at least indicated it considers Australia to be a key future market.
But when it will be offered locally here is as yet an unknown.
SOURCE:
THE DRIVEN