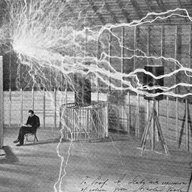 First Name

Bryan
Joined

Jun 16, 2020
Messages
Reaction score

116
Location
Vehicles

Dodge Ram diesel
Occupation

Retired

Most truck users want to know what is "under the hood". In ICE trucks they want to know the horsepower and the torque.
In EV's it's "what kind of motor and how much torque does it produce".
Since Tesla does not publish power ratings on their motors we have to rely on dynamometers. There are some dyno tests on YT with the Model S.
The Tesla Semi will use the Model 3 motor, the AC Reluctance Motor. I've read where in the dual motor Model 3 the Induction motor is used in the front and the Reluctance motor is used in the rear.
So I'm thinking the Cybertruck will use the AC Reluctance Motor.
The Reluctance Motor used in the Model 3 is an PMSRM-Permanent Magnet Sychronous Reluctance Motor.
There was some speculation that the PMSRM is a "Switched" instead of Synchronous Motor. This was proven wrong after a teardown of the motor revealed imbedded magnets in the rotor.
BMW uses a similar motor in the i3 they call a hybrid synchronous electric motor.
I doubt Tesla will release what kind of motor(s) will be used in the Cybertruck so we won't know until there is a teardown of the motor once someone like Sandy Munro does one.
I have no doubt the Cybertruck will live up to hype and will have TONS of torque!
Last edited: