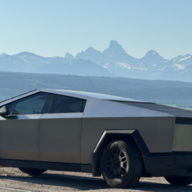 First Name

Steve
Joined

Mar 9, 2020
Threads
Messages
Reaction score

79
Location
Vehicles

PY holding me over till TRI CT
Occupation

FlagstaffRentalCabin.com & TeslaRenter.com

I'm super excited about the CyberTruck for MANY reasons... but one of them is just how awesome this truck will be at plowing snow.
For context, I'm "that guy" who now plows snow with my Tesla Model Y with a backward plow in the tow hitch. I have Nokian snow tires coupled with the Tesla traction control has been incredible even in crazy off road conditions. I've also watched a ton of YT videos with people plowing in regular trucks so I'm somewhat familiar with the pain points of regular trucks. I'll be referring to the specs of the Quad Motor CT, but I still think the Dual would make a much better-than-average snow plow truck.
The Good:
1) Insane Torque with Traction Control - The CT will have zero problems pushing the biggest piles of snow imaginable due to 4 motors at each wheel and 1000+ HP.
2) 16" Ground Clearance - Won't get bogged down even in deep snow, unlike my Y with low clearance.
3) 4 Wheel Steering - Will allow for tighter turning radiuses and more control.
5) NO Transmission - This is something that always wears out quickly when snow plowing with a traditional truck.
6) Built-in Back Up Camera with Huge 17" Display - No 3rd party camera with crappy display needed.
7) Vision - No big hood to look over out the front, can better see what you're plowing
8) Tonneau Cover over Bed and Front Frunk - Huge lockable storage areas traditional trucks just don't have as standard.
9) 500+ Mile Battery - Will easily last all day. Most snow routes aren't very long, but obviously, you use a lot of energy per mile. Quick 15-30 min charge at V3 or V4 charger and you're good to go again.
10) Stainless Steel Body - No rust!
11) CyberQuad ATV with Plow - This could be the ultimate compliment to tackle the smaller jobs & sidewalks and is easily transported with fold down tailgate.
12) 120/240v Electrical Ports - Can charge up electric snow blower or CyberQuad in truck bed.
13) Quieter Operation - Selling point especially for residential when plowing at night or early AM.
14) NO Emissions - Some clients will appreciate the more environmentally friendly option.
15) Battery Pack Weight - Many plow trucks add weight to the bed to get better traction. No need in a CT, plus less roll-over risk.
16) Safety - Better traction = less accidents, plus safety features like FSD V4 to prevent road accidents, and typical superior Tesla crash safety.
17) Mobile Advertising - No more eye catching design to wrap vehicle with company logos and generate business on the fly.
The Bad:
1) Charging Infrastructure - There will still be some locations that are not close enough to a SuperCharger to recharge quickly but this only applies to commercial accounts that need to go 24/7 for several days on end. However, they are building out the network faster than ever.
2) How to Mount the Plow?
- Especially since the CT will not be built on a typical on-frame design, it's unclear how the attachments will be done. This may mean expensive custom metal fabrication until the plow manufacturers build their own attachment systems but that could be years after first deliveries. Or, worse yet, it simply won't allow a plow without voiding the warranty, but I'm hopeful that insn't the case. How will it mount is the biggest unanswered question at this point.
3) Steering Wheel - Hopefully they offer BOTH the Yoke and the round wheel like in the S/X. If not, I'm sure some traditionalists will complain the yoke is a joke. Personally, I'd love to try it and love how it looks but won't know how practial the yoke is till giving it a solid test.
The Ugly:
1) What are you talking about? No one has ever accused the CT of being ugly. NO ONE!
Last edited by a moderator: