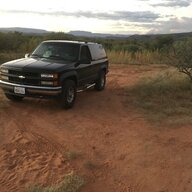 First Name

Rex
Joined

Apr 22, 2020
Messages
Reaction score

608
Location
Website
Vehicles

1997 Tahoe 2 door 4x4
Occupation

Retired software developer and heavy commercial design builder

I don't think Tesla updates will be reversible after you the download. Tesla has come a long way since they started and most of that has been software advancements. The plan that they have even in the short run is supposed to greatly improve upon the current system as well as bring out new features. A lot of these updates also included minor changes to the current safety systems and I don't think Tesla will ever allow someone to undo an upgrade to a safety feature and I don't think you could just keep the safety feature but not the rest of the update.

One thing that is hinted at coming in the future is the app store in cars. Once Tesla has it's own apps for a lot of different programs, it would allow more customization. If you don't want a game, or you don't need spotify, you will probably have the option to delete that app. Then Tesla updates could be strictly for vehicle controls and driving software, while you can pick and choose everything else that you want.
Cyber in Cybertruck alluded to much more than an Apple-style form of ownership class of subscribing to functionality through rents paid off an App in a Store. Cyber laid bare a promise that a truck could be more, much more than the sum of its parts. I'd envisioned a Cyber-Garage before an appliance app store.
Cybertruck posited truck as platform. That a truck can be customized configured, upgraded and reprogrammed to suit your needs as they change, OTA on-the-fly, is Cyber and Cybertruck. Over time, Cybertruck , the vehicle, never grows obsolete that way before its million mile battery. Left as an exercise for Tesla was to deliver on the Cyber-half of Cybertruck promise after delivering its truck as platform.
Two AMD chips crunching 10 Tflops, if included in CT, goes a long way to providing headroom for supporting an on-board process-intensive platform. DOJO + OTA implied off-platform capabilities. StarLink +VoIP implied a mesh of possibilities. And FSD was very first mention that, Cyber-enabled, Cybertruck had revenue enhancement potential for those who opted for an $8k FSD capability. I never got any impression that rents were part of Tesla's Cyber plan off of an App Store to gain Cyber functionality.
Cybertruck has tons of potential. But any stripping functionality at the expense of subscription, upgrade and revision crosses an ownership property line. OTA kill instructions that disable a vehicle or funtion blatantly steals property off a vehicle paid at time of sale in a violent irresponsible way. Service actions that change vehicle performance, specification or substitute "improvements" that effect the same, are in-kind takings from owners.
Last edited: