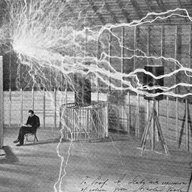 First Name

Bryan
Joined

Jun 16, 2020
Messages
Reaction score

2,414
Location
Vehicles

Dodge Ram diesel
Occupation

Retired

Sponsored by Wolfspeed
The electric vehicle (EV) market is expected to jump from 3.2 million units in 2019 to nearly 27 million units by the year 2030. Major players in this industry are expected to invest more than $350 billion in the near future to grow the electric vehicle market.
Wolfspeed understands the technological challenges that EVs present for engineers, especially when it comes to power and EV charging solutions.
A Charging Problem
While electric vehicles are becoming more commonplace, many consumers continue to have concerns about range and charging capabilities. For decades, the consumer driving experience has been powered by fossil fuels, and refueling meant a quick stop at the gas station to top off the tank. The prospect of a lengthy charging process to keep your car traveling down the road is a massive deterrent.
Enter On-Board Battery Chargers
On-board battery chargers are the key to keeping EVs powered—they take AC current from the charger unit and convert it to DC power to recharge the battery. They are also often capable of harvesting kinetic energy from the vehicle itself to provide additional charge. But traditional silicon has made these systems very limited in both their output and speed.
Wolfspeed is changing that.
A New Level of OBC Capability, Powered by Wolfspeed SiC
Traditional silicon has limitations, particularly when it comes to high-power applications like those of on-board charging (OBC) systems. But Wolfspeed silicon carbide (SiC) is uniquely capable of handling higher voltages and taking on even the most challenging of power applications.
Through Wolfspeed SiC, automotive innovators can realize:
Up to 30% lower losses
Up to 50% greater power density
Up to 30% fewer components, leading to lower overall system cost and reduced vehicle weight
Wolfspeed silicon carbide also maximizes the potential of both unidirectional and bidirectional OBC capabilities. This means automotive manufacturers can design systems that can both receive energy from the grid and give it back, helping to stabilize the electrical grids of the future and create a more sustainable growth path for tomorrow's EVs.
Wolfspeed EV Products Built to Support OBCs
Wolfspeed products represent the culmination of years of experience and expertise, where quality meets innovation to help bring your design forward:
Reference Designs to Accelerate Your Engineering Pipeline
Wolfspeed not only offers the solutions to bring your design into the future of automotive technology, but our reference designs can help you accelerate your design cycle process. Wolfspeed's 6.6 kW Bi-Direction On-Board Charger reference design showcases:
Full system design resource package with schematics, BOM, and more
Wolfspeed 650 V 60 mΩ C3M SiC MOSFETs
Higher efficiency and higher power density than Si solution
High operating frequency significantly reduce the magnetics size and weight—system size and cost benefits
Wolfspeed: Disruptive by Design
From its inception, Wolfspeed has been focused on the future, and that silicon carbide power is the technology that can bring your business forward.
Wolfspeed has more 30 years of experience in silicon carbide power and 7+ trillion installed field hours. We have invested in the future of silicon carbide technology and are expanding our capacity thirty-fold by 2024 to support your business's growth. With more than 17 years of diode and MOSFET production, we are equipped to supply the components that will build up OBCs for the future of automotive tech.
SOURCE:
CHARGEDEVS.com
Cree divests LED business to focus on SiC and GaN devices
Cree, Inc.
has announced the sale of its LED products business unit, Cree LED, to
Smart Global Holdings
, a group of specialty memory, compute, and storage solution manufacturers, for up to $300 million. Marked as a key milestone in Cree's transformation to become a global pure-play semiconductor company and powerhouse for silicon carbide (SiC) and gallium nitride (GaN) devices, it leaves behind its 30+ year history as one of the leading LED brands in the industry.
Gregg Lowe, Cree's CEO
"Divesting Cree's LED business represents a major milestone in our transformational journey and sharpens our focus exclusively on our innovative Wolfspeed business as we continue to lead the industry transition from silicon to silicon carbide," said Gregg Lowe, Cree's CEO, during a conference call. "Importantly this divestiture uniquely positions us as a pure-play semiconductor company with a strong financial profile as we continue to grow our position in SiC materials as well as our RF and power devices."
This marks Cree's complete exit from the LED and lighting businesses, enabling the company to focus on its Wolfspeed business unit, a manufacturer of silicon carbide and GaN Power and RF devices. In May 2019, Cree completed the sale of its lighting products business unit (Cree Lighting) to Ideal Industries. It included the sale of its LED lighting fixtures, lamps, and corporate lighting solutions for commercial, industrial, and consumer applications.
The acquisition price for Cree LED – which also has a strong patent portfolio -- includes a $50-million upfront payment, a $125-million seller note, which matures in August 2023, and up to $125 million earn-out, depending on the revenue and gross profit performance of Cree LED during the first full four quarters after the transaction closes.
The transaction is subject to required regulatory approvals and customary closing conditions. Following the closing of the transaction, expected in the first quarter of 2021, Smart will license and incorporate the Cree LED brand name into the Smart portfolio of businesses, joining Artesyn Embedded Computing and Inforce Computing acquired in 2019, and Penguin Computing, acquired in 2018.
Price tag: $300 million?
So why did the once third-ranked, billion-dollar LED manufacturer sell its business for only $300 million? Cree's LED packaging and lighting businesses saw growth slow over the past several years due to strong competition from Chinese companies with aggressive pricing strategies, according to LEDInside, a division of TrendForce.
The company's LED business reported more than $1 billion in annual revenue for the 2013-2014 period, which fell to $480 million in 2019, according to LEDInside. This dropped Cree from the third-ranked LED supplier to number eight.
But perhaps even more important are U.S. government's export controls and restrictions on tech products. "Since it is difficult to separate Cree's LED-related patents/technologies from its SiC technologies, potential buyers of Cree's business are therefore limited to U.S.-based parties, in turn placing a limit on the final sales price," according to LEDInside.
Cree isn't the only LED manufacturer that has been impacted by Chinese competition. Two other leaders, Osram and Lumileds, have sold off significant shares to other companies. Ams acquired 55 percent of Osram's shares in 2019 while Apollo Global Management LLC bought 80.1 percent of Lumiled's shares in 2016.
Even more recently, Taiwanese LED manufacturers Epistar Corp. and Lextar Corp. announced that they are merging.
Mark Adams, president and CEO, Smart Global Holdings
There's two dynamics in the LED market," said Mark Adams, president and CEO, Smart Global Holdings, (and former Lumileds CEO), in a conference call. "On the supply side you have an industry structure that's been driven and impacted by Chinese investment in LED capacity that has put the industry in some headwinds around excess supply and that's been a dynamic that's been going on for a few years."
This was coupled with lower demand, even well before Covid, he added. "We believe that the more recent two years of decline around LED revenues and margins have been driven more by the demand that we think is recovering. So if you combine the excess supply driven primarily by the subsidization of the Chinese manufacturing base with the last two years of demand, the market has been tougher."
Demand is "getting better," he added, and there will be "further opportunity for industry consolidation that will again be a positive impact on the supply base."
Cutting costs
In recent years, Cree started to outsource its LED business to OEM partners with mature technologies, including Fujian Lightning Optoelectronic and Lextar, due to pricing pressure, said LEDInside.
In an effort to reduce costs, Cree started to move its LED products from a SiC substrate to a sapphire substrate a few years ago.
This strategy is not expected to change, according to Cree's Lowe. "In terms of the manufacturing agreement it's basically the plan that we had internally with our LED team in terms of producing product in house and blending that with a move to external manufacturing."
Though Lowe did not want to provide exact numbers, he said the LED team has made good progress in terms of moving products from a SiC substrate to a sapphire substrate. "That was a very important first step because that allowed us to then explore going to a fabless model for our LED business."
Smart's Adams expects to remain on course with the transition. "We plan to accelerate Cree's already in-flight transition from silicon carbide to sapphire and drive the average cost lower as we move to a fabless model resulting in a capex light business."
Cree's transformation
In 2016, Cree had planned to focus on its LED business and
sell the Wolfspeed WBG business to Infineon
. The deal later fell through due to national security concerns. Now four years later, the company is selling off it LED and lighting portfolio to focus on higher growth and higher margin wide bandgap (WBG) semiconductors.
In between, the company changed CEOs. Lowe joined Cree in September 2017 as president and CEO. About six months later, Cree
acquired Infineon Technologies' RF Power Business
for approximately $426 million. The move was meant to strengthen Cree's position in radio frequency (RF) gallium nitride on silicon carbide (GaN-on-SiC) technologies and expand Wolfspeed's position in the wireless market as it moves from 4G to 5G.
Cree
spun-out Wolfspeed as a standalone business unit in 2015
.
The acquisition added GaN-on-SiC and LDMOS packaging and test operations in Morgan Hill, CA and Chandler, AZ; plastic packaging services in Melaka, Malaysia; and locations in China, Sweden, Finland and South Korea.
Fast forward to 2020. In this week's conference call Lowe reiterated the sentiment, noting the strategic focus on SiC will strengthen its financial position and will "support continued investments to capitalize on multi-decade growth opportunities across EV, 5G, and industrial applications."
Lowe said the company has a $10-billion device pipeline that spans the automotive, communications, industrials, and energy markets. To meet growing demand, the company is investing up to $1 billion to expand its SiC capacity, including the construction of an automated 200-mm fab in Mohawk Valley, NY, and expansion of its materials factory in Durham, NC.
"The combination of which will establish a SiC corridor on the east coast," said Lowe. "We believe we are at the forefront of a multi-decade growth opportunity."
In fiscal Q3, Wolfspeed secured approximately $400 million worth of design-wins and in Q4 added another $600 million. "For fiscal Q1, we expect the Wolfspeed design-in awards alone to be more than our companywide performance in the prior quarter," said Lowe.
In RF applications, Lowe expects to leverage growth trends in 5G particularly as customers look to drive higher frequencies and higher efficiency output for their infrastructure. "In power devices, the shift to electric vehicles represents one of our most exciting opportunities with the automotive industry making up roughly half of our device pipeline."
Lowe also sees broad opportunities for SiC across other industries, including industrials, energy, and aerospace and defense. This includes increased revenues through the distribution channel. As an example, Lowe noted that Arrow Electronics is key to penetrating many of these opportunities, having identified approximately $2 billion of SiC opportunities for Wolfspeed thanks to the global distributor's "large and extensive sales footprint."
Following the divestiture of the LED business the company's target revenue is $1.5 billion and gross margins in the low 50s by fiscal 2024.
SOURCE:
EPSNews