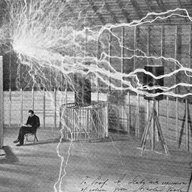 First Name

Bryan
Joined

Jun 16, 2020
Messages
Reaction score

1,232
Location
Vehicles

Dodge Ram diesel
Occupation

Retired

Dids, that's reassuring stuff. Yet can't help being nervous. Could we see this get bogged way back down around 400 a share?!
This was posted last Saturday :
"TSLA stock is hitting resistance at the 21-day line, at least for now.

Keep in mind that the 50-day/10-week line test is a test. A successful test would offer a new buying chance, but a failure could trigger a sell signal.
If TSLA stock falls decisively through 50-day/10-week line, what's the next support area? Perhaps 695, the price at which Tesla entered the S&P 500 index. Beyond that you're looking at top of the prior base at about 500. The 200-day line is now about 450, not far from the November breakout buy point of 466.
All of that would be in character for TSLA stock, especially if the market fell into a correction. In the huge run from late 2019, Tesla stock has had some deep bases.

So if investors do buy Tesla stock at or near these levels, price that off the 10-week line and be ready to sell. A decisive break may be a signal for longer-term investors to take some more profits.

Tesla arguably is the most important stock in the market rally. It's the ultimate story stock, with a huge market cap. Call options helped fuel its 2020 run. Ark Funds is a major Tesla stock investor and champion. The EV maker has even bought $1.5 billion worth of the power-hungry Bitcoin.

If and when Tesla marks a major top, that could trigger or coincide with a big stock market top."
https://www.cybertruckownersclub.co...ket-rally-the-bear-case-for-tesla-stock.2540/