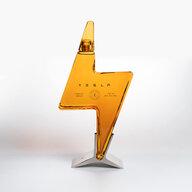 Joined

Jul 6, 2020
Messages
Reaction score

512
Location
Vehicles

Dodge Challenger
Occupation

Engineer

I'm sorry to drag this thread even further though the gutter but here it goes...

I think the main disagreement is the interpretation of "exoskeleton". When Tesla announced this I immediately assumed that the 3mm flat exterior panels would be combined with thinner stamped and welded stainless panels on the inside (unibody or semi-monocoque construction). I have had lots of experience working with 1/8" 304L and 316L cold rolled sheet, just like what the Cybertruck uses. There is no decent way to make the visible 3mm flat skin exterior panels of the Cybertruck strong enough (torsionally) without internal structural members. It would be a flimsy mess. Heck, when you look at the picture of the Cybertruck "exoskeleton" on Tesla's website you can clearly see there are internal reinforcements (A/B/C pillars). And no, the pillars are not just there to bolt door hinges to. These are critical structural members of the frame (think of webs in a steel truss).

A good way to illustrate this is with a cardboard box. If all 6 sides of a box are securely taped in place then the box is very rigid. If you remove just one side of the box then it becomes extremely flimsy.

If the exoskeleton of the Cybertruck does not have a strong underbelly structurally fixed to the outer panels (either structural battery pack, cast aluminum or stainless welded floor pans and cross-members) then the frame would have very poor torsional rigidity.

And now back to the original topic of this thread... I am positive that the aluminum casting on the Cybertruck will be a major structural member of the frame in order to achieve the necessary torsional rigidity. It may be bolted, maybe bonded with resins, maybe even friction welded to the stainless panels. I would have just preferred that the underbelly part of the frame was stamped and welded stainless steel, like the prototype almost certainly is, instead of using a cast aluminum member.
The underbelly on the prototype looks like it's plastic.