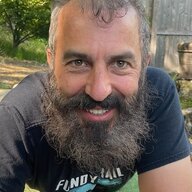 First Name

Les
Joined

Dec 21, 2019
Messages
Reaction score

1,943
Location
Vehicles

04 Tacoma, 21 Cybertruck
Occupation

Self

(First post here). I'm thinking that the issue of torsion, as well as compression, extension, flexion and shear, forced the use of exoskeleton. Then, they leaned into it. This is backwards from a car designer's perspective. A car designer can say unibody and let's make something. Tesla has to say, "How do we insure the battery pack doesn't take large quantities of force while carrying a load in the bed or towing???".

Traditional body on frame and unibody won't support the towing and carrying while protecting the battery pack from the torsion and other forces.

How does Tesla do that? exoskeleton, that's good because then they can skip paint and save billions...ok...what's the most sturdy way to do it? single high point triangle. The Tesla look continues inside given the engineering and design constraints . It's almost as if the CyberTruck had to look this way for it to even work.

Personally, the only thing that they could have gotten wrong, they did. That steering wheel, ugh...
I like your sentiments and I agree with you until you get to the steering wheel.... we don't know what steering the cybertruck is like, its possible that a yoke makes the most sense. What if its a pure steer by wire and speed sensitive steering system?