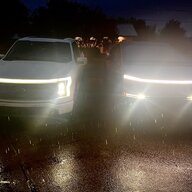 Joined

Aug 17, 2022
Threads
Messages
Reaction score

1,270
Location
Vehicles

F150L
Occupation

Fun-employed

That was his opinion. A sixth seat can fit, if they don't include it, it's a design choice.
My dads friend works at Nintendo and told me they'd put a NES in the dash of cybertruck.
So is y'all's position that, at an
investor
event (not just a random spy sighting), Tesla chose an employee to stand inside the proto boundary only monitor the proto, but That employee Tesla choose was otherwise both (A) unaware of relevant facts about the proto, and (B) presumably directed to not discuss the proto, but that CT-ignorant employee (presumably under NDA) threw caution and his job to the wind and just socialized "opinions" with investors?
I'm not saying that's impossible; but sure seems an uncharacteristic failure of the company and types of constraints deployed around investor-facing events.
I'm also not saying that the above scenario is 180° from the truth.
But I *am* confused about how one is so confident in the above sort of scenario, which seems the sort of scenario that justifies this sort of "it was just an employees opinion" sort of view.
EDIT TO ADD: I can, however, totally see how if this employee were not super agile with the individual quirks of "truck people" he might, for example, say "6X4 bed" when in fact it's a 74" X 51" bed, and he not realize that makes all the difference in the world to some "truck people"
But conversely, seems pretty binary, the difference between saying "5 seats" vs "6 seats"
Which
if that is true,
could mean either:
• all configurations will be 5 seats, vs
• this proto configuration is 5 seats (but other seating configs will be available)
Last edited: