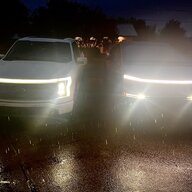 Joined

Aug 17, 2022
Threads
Messages
Reaction score

2,800
Location
Vehicles

F150L
Occupation

Fun-employed

That was part of what was really impressive to me about the Semi video showing 500 miles of range fully loaded. They were basically all Freeway miles, which is way harder in EVs. Of course the Semi was driving around 55mph.
Curious by your post, I looked around, and found the semi tractor itself has a Cd of 0.36 - pretty good
and yes, driving 55mph is a key
in the US, the National Maximum Speed Law of 1973 established a national maximum speed limit of 55mph on all highways in order to conserve fuel in response to the oil crisis of that year. It was eventually repealed in 1987.
rule of thumb is that, depending on Cd and frontal area of a vehicle, for every 1mph over 55, drivers should expect to loose 1-2% of fuel economy
so the difference between 55 and 75 can be between 20-40%
Also a key reason why a lot of fleet vehicles are governed to 55ish.
and semi drivers I'm sure watch their OpEx