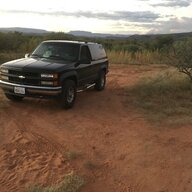 First Name

Rex
Joined

Apr 22, 2020
Threads
Messages
Reaction score

1,291
Location
Website
Vehicles

1997 Tahoe 2 door 4x4
Occupation

Retired software developer and heavy commercial design builder

Canada can be peaceful because they have a strong democratic neighbor. They also have a crap load of valuable natural resources with low population density to pump up their way of life.

Canadians are great and they have a pretty sweet gig.
Wasn't sweet gig growing into that way of life. Canadians were not allowed to buy a refrigerator in 60's Canada. So my family would load one into the fishing boat under tarp to take up to our Ontario host where we fished on the Red River above Lake of the Woods.
Canadians aren't wealthy by American standards when fourth richest is the FORD dealer in Calgary. That is what makes Canadians more friendly, homogeneous in contrast to have-have not America where healthcare plays as a health for wealth transaction. Canadians for most part all have a common shared narrative right down to the healthcare in which they all suffer equally.
To be sure, Canadians snowbird to locales few Americans can afford or enjoy but that's the distinction. Canadians get together over drinks call up an air carrier(Canadian) ask how much to charter a whole plane to Panama. Americans who would not find that many friends are left paying retail high season rates to fly off to the Caribbean are few. So Florida and Disneyworld punch their tickets.